The Best digital cameras For 2020 -Buy Guide And Review
Technological evolution introduced advanced featuring digital cameras with multiple new options. Not only that but also simple operative modes. If you are a professional photographer and want to experience the perfect quality of image, or video. Find your taste for DSLR in the top 10 list. After spending a lot of time, I found the top ten best digital cameras available right now.
The Best digital cameras For 2020
Buying guide and recommendation
Panasonic Lumix FZ80 4K Digital Camera
The Panasonic Lumix DC-FZ80 is a superzoom bridge camera for photographers on a budget. It features a small, 1/2.33-inch sensor with a resolution of 18MP. A massive lens system in the Panasonic FZ80 provides a focal length range between 20-1200mm (35mm film equivalent) and a whopping 60x zoom. Using the digital zoom, photographers can take photos with a focal length equivalent of 4800mm.
The FZ80's built-in image stabilizer (Power O.I.S.) is a hybrid system based on optical stabilization and electronic stabilization and works with photo and video recording. It works very well, but has its limits when it comes to photos in the 800-1200mm range. In these situations we recommend using a tripod for sharp photos and jitter-free video recording.
Features, Build & Handling
The Panasonic Lumix FZ80 is able to record 4K videos, thus offering Panasonic's "4K Photo" system. It allows users to take an image series at 30 frames per second (fps) at a lower resolution for high-speed shots of subjects in motion. Due to a combination of an electronic and mechanical shutter system, it allows use of an exposure time of 1/16,000 second in electronic mode, while the maximum shutter speed is 1/2000 second in mechanical shutter mode.
In addition, the Panasonic Lumix FZ80 allows use of a "Post Focus" function to take an image series and extract the image with the desired focus area in review mode. This function also allows for "focus stacking" to combine images in a focus bracketing series to attain a sharp image with a wide depth of field. Using the "Post Focus" and "4K Photo" functions doesn't permit manual exposure settings. In standard photo mode the camera offers P, S, A, and M modes.
As a bridge camera, the Panasonic Lumix FZ80 offers an electronic viewfinder. This viewfinder has a resolution of 1,166,000 RGB dots. However, the viewfinder is small and offers a 0.46 scale factor (equivalent to a 35mm film camera viewfinder), thus is a little hard to focus manually.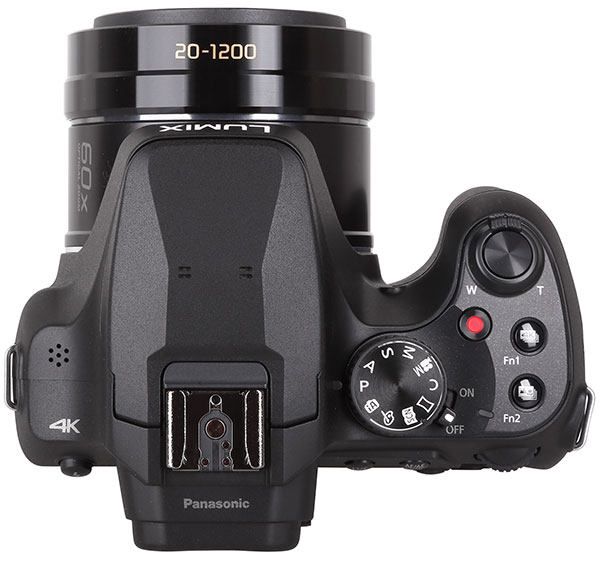 The Panasonic Lumix FZ80 does offer focus peaking and a manual focus guide on the screen. Focusing manually isn't very comfortable because the photographer has to use the control field to change the setting instead of a focus ring on the lens. The Panasonic FZ80 doesn't offer any lens ring for zooming either and focal length changes are only allowed by using the "W – T" motor zoom lever at the shutter release button.
In addition to the EVF, the Panasonic Lumix FZ80 has an LCD screen on the back (fixed/no swivel mechanism). This three-inch screen offers a resolution of 1.04 million RGB dots and is touch sensitive, so setting up menu parameters or choosing a focus area is very easy and comfortable. To switch between viewfinder and LCD, the photographer has to use the "LVF" button near the viewfinder ocular because the camera doesn't offer an eye sensor.
The Panasonic Lumix FZ80 offers quite a few control and user-defined function buttons. A setup dial handles exposure parameters, while the standard control field on the back is used for menu navigation. Additional "virtual function buttons" on the screen are available.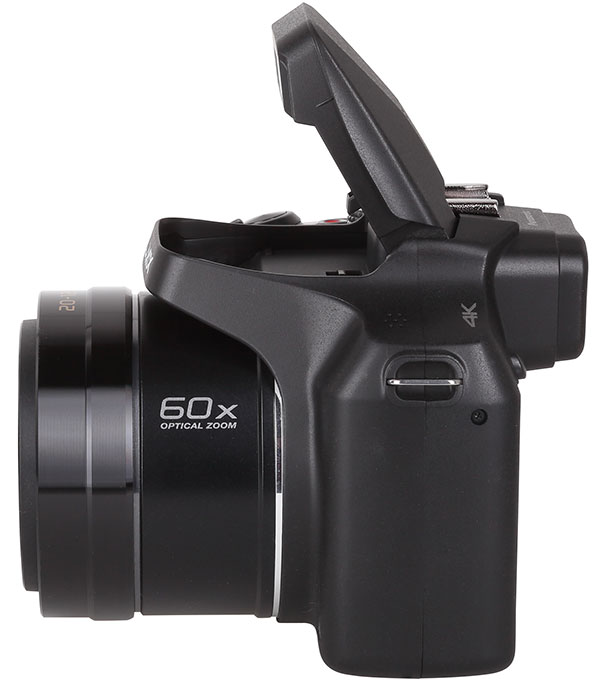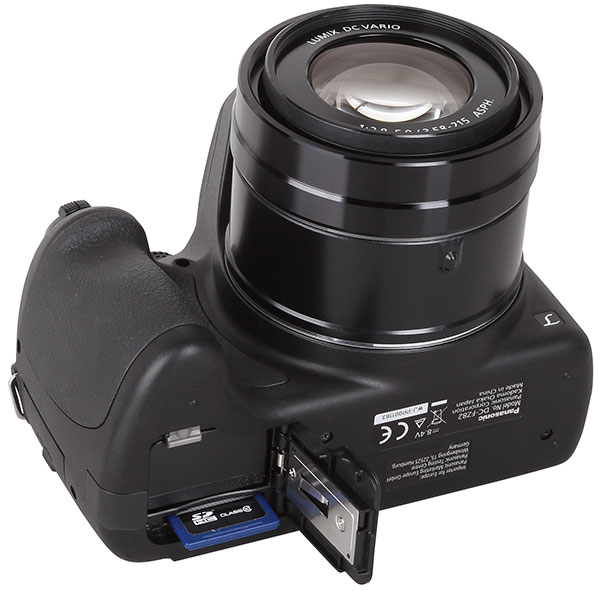 The Panasonic FZ80 features a Wi-Fi module for use of a smartphone as a wireless remote control or to publish images directly in social networks. When used as a remote control the smartphone app (for iOS and Android) allows the user to change image parameters (shutter speed, aperture, ISO) very comfortably.
Comments on Image Quality
Color: The Gretag SG test chart for the Panasonic Lumix FZ80 shows a nearly perfect white balance. All neutral gray patterns are located exactly in the center of our result chart. Most colors, like green, red, and yellow, show only minor aberrations to their given values, but blue nuances are shifted in a very extreme way. All blue nuances from bright to dark are highly saturated and shifted into the magenta-colored area.
Sharpness: The Panasonic Lumix FZ80 offers a nominal resolution of 4896×3672 pixels. The ISO 12.233 chart was reproduced with 2,711 of 3,673 lines per picture height, a low result even for a compact camera system with a small image sensor. The extreme zoom lens creates compromises. A loss of detail is also noticeable in our test images, especially in corners of the images.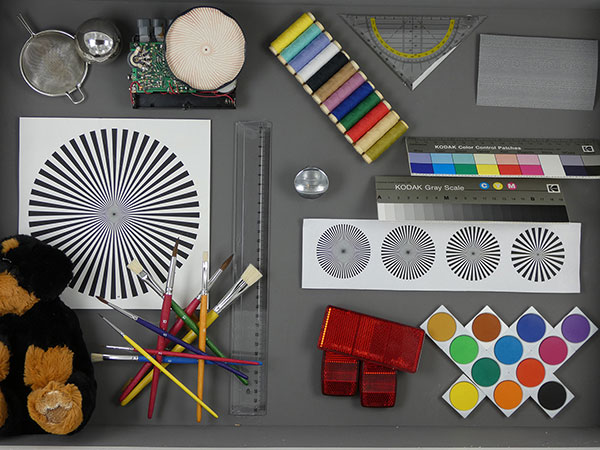 Noise: Noise results of the Panasonic Lumix FZ80 prove that the camera uses a very small image sensor. The y-factor crosses the 1 percent line even at ISO 100. Using higher ISO speed settings, the y-factor stays on this level of about 1 percent because the camera uses a very intense anti-noise filtering system. By smoothing the images a lot of details become lost. These effects are already noticeable when images are taken at ISO 100 to ISO 200.
The dynamic range results are on a standard level for compact cameras with a 1/2.33-inch sensor. The FZ80 achieved a maximum of 10.1 f/stops, but the average dynamic range is about 7 to 9 f/stops.
Comments on Video Functions
The new Panasonic Lumix FZ80 has 4K video recording—just like all new Panasonic cameras. For recording these videos with 3840×2160 pixels the camera uses the MP4 file format. It is also able to record Full HD video (1920×1080 pixels) in AVCHD format for compatibility with camcorder videos. Both file formats use H.264 compression technology. (Note: Newer compression systems like H.265 are only available in the new GH5, the flagship of Panasonic's mirrorless G system.)
The camera records 4K videos with 30 fps and up to 60 fps in Full HD format. Using the mode dial on the top to switch into the manual video recording mode, use of standard exposure modes like P, S, A, and M can be chosen using the video menu on the screen. Manual setup of the ISO speed setting is allowed as well.
Just like in photo mode, the photographer has to use function elements on the back to focus manually instead of using a lens ring. Focus peaking on the screen is helpful, but we missed a swivel LCD system, which should be a standard feature for current cameras with video functionality. The Power O.I.S. and the electronic O.I.S. systems are helpful when recording video. They help to record smooth videos when the photographer uses the Panasonic FZ80 with zoom lens settings between 20 to 400-600mm, but can't prevent very shaky results when using higher zoom lens settings.
Comments on Video Quality
The Panasonic Lumix FZ80 performed extremely well in our resolution test when recording in Full HD mode. In this mode the ISO 12.233 chart was reproduced with 1,061 of 1,080 lines, which is an excellent result. In 4K mode the resolution result is only slightly higher: the camera recorded the test chart with 1,350 of 2,160 lines.
Color results in video mode are comparable to color results in photo mode. The automatic white balance system worked very well and most colors show only minor aberrations to their given values. Blue nuances are extremely boosted/saturated. The dynamic range results are good: the camera achieved a maximum of 9.76 f/stops and keeps a level of about 8 f/stops up to ISO 800. Noise results are on the same level: noise artifacts are noticeable already at ISO 800 and get annoying at ISO 3200.
Canon PowerShot ELPH 190 Digital Camera
The Canon PowerShot ELPH 190 sits in a very difficult position for a camera. With an MSRP of $149.99, it's a couple hundred dollars less costly than high-end cameras that include larger image sensors and 4K video recording (let alone 1080p). But the ELPH 190 manages to pack a wealth of connectivity options, an optical zoom that can still make any smartphone camera jealous, and a welcomingly simple design.
If your main goal is to be able to take still photos, quickly and easily, and with very little complicated options in the middle, this camera has your name on it. It's an easy recommendation for children, amateurs, and the technology-averse among us.
Design: Small but functional
Canon has been manufacturing cameras under the PowerShot ELPH name for nearly two decades. For many, it's a name synonymous with the entire idea of the point-and-shoot digital camera. Those that have forgotten (or never knew) what these cameras feel like to hold are actually in for a bit of a treat—the Canon PowerShot ELPH 190 is the perfect combination of light and sturdy.
It's highly portable, and despite its affordability, still feels like a premium product in your hands. Best of all, it manages this without actually being heavy. It's still a bit over an ounce lighter than a new iPhone XS.
On top of the camera, you'll find the power button, shutter, and zoom control. On the rear side Canon gives us play, video record, menu, a dedicated Wi-Fi button, and a directional pad for navigating menus and deeper control. It's a standard set of options, and there are definitely a lot of buttons in a small amount of space, but the camera manages all these features without feeling too terribly cluttered.
For most fully automatic shooting scenarios you won't need to go much deeper into any menus to take your photo, which will certainly be a relief for those that aren't a fan of diligently studying user manuals before picking up and using their devices. When you do need to dive in, however, it's a bit messy—a detail we'll cover in the software section later.
Setup Process: As easy as it gets
Canon takes all the guesswork out of the setup process with the PowerShot ELPH 190. In the box you'll only find the camera, a battery, and a charger for the said battery. You can be up and running in under a minute provided you've remembered to buy a memory card in advance. Buyers should note that the battery on the device is predictably tiny, so expect short charge times and short use times.
We opted to give the battery a full charge before proceeding with testing, and were very happy with the speed and performance of the included charger. Users who are interested in buying backup batteries will be glad to learn they can, but an MSRP of $59.99 per battery definitely doesn't make this an easy decision.
Photo Quality: Outdoor darling
The Canon PowerShot ELPH 190 uses a 20MP sensor that is genuinely capable of taking some wonderful photos in the right conditions, but stray too far from those conditions and image quality takes a sharp nosedive.
In outdoor, daylight settings, and in scenes with relatively flat lighting, this little camera gave us some really great results.
In outdoor, daylight settings, and in scenes with relatively flat lighting, this little camera gave us some really great results. If this is the kind of scene you're going to find yourself trying to capture most often, you will be more than satisfied with what the results the ELPH 190 produces.
On the flip side, take a step indoors and try to take some shots in auto mode without using the flash and you may be left wondering if you're using the same camera. Performance is noticeably more sluggish, and while the optical image stabilization (OIS) does all it can to compensate for the image sensor, it can only do so much. Expect a considerable amount of noise, and blurry photos when trying to capture moving subjects. The flash will alleviate these problems of course, but at a cost.
One thing we weren't in love with was the tendency of the auto mode to overexpose shots with mixed lighting conditions. Not a good look for a camera primarily designed to be used in auto mode.
Luckily, Canon has provided a program shooting mode giving users near-but-not-quite manual options for their photos. Take direct control of light metering, white balance, ISO speed, exposure, and shooting distance (normal, macro, infinity).
One thing we weren't in love with was the tendency of the auto mode to overexpose shots with mixed lighting conditions.
Dive another menu deep inside the shooting mode and you'll find options like portrait mode, FaceSelf-Timer (which starts a countdown when a face is detected), fish-eye effect, and a few other fun options. You'll even find a long exposure mode capable of shutter speeds as long as fifteen seconds. If you don't mind using a tripod, this will really open up the kind of photo quality you can extract from this tiny shooter even in darker conditions.
Video Quality: Nothing to see here, folks
Sadly, video is a bit of an afterthought for the Canon PowerShot ELPH 190. The camera shoots middling video at a resolution of 1280×720. While meeting the absolute bare minimum threshold to be able to use the term "HD", this is really not a resolution you want to be shooting video at right now.
While this isn't the most admirable area of the camera's performance, it's a somewhat forgivable one. Point-and-shoot cameras aren't a great form factor for holding steady while you record video, and they have never been a go-to choice for those with video capture high on their list of wants. If video quality is a make or break feature, it might be time to start looking elsewhere.
Software: Useful but unintuitive
Perhaps in an effort to prevent their users from getting information overload while staring at their camera's menu, Canon has chosen to scatter the various options and functionality all over the place. We appreciate the thought, but the user experience leaves something to be desired.
The menu button, for example, gives a different set of options depending on whether you are in shooting or playback mode. Other shooting controls are also available only through the FUNC/SET button, which itself gives different options depending on whether you are in auto or program mode.
Canon then hides additional camera modes inside the program mode, which then also change the context and options of the top level menu upon selection. Even reading that is a bit much.
Once you get used to the location of all the menus and the menu flow, it's easy enough to navigate, but it's miles away from intuitive. Thankfully, the actual options that all these menus give you access to are themselves very clear and concise, come with helpful, plain-English descriptions, and give users a wealth of control over how they use this device. 
Once you get used to the location of all the menus and the menu flow, it's easy enough to navigate, but it's miles away from intuitive.
The Wi-Fi button, for example, gives you the ability to transfer images between cameras, directly to a smartphone, to a computer, to a Wi-Fi printer, or to a web service. For the latter option, you must create an account with Canon and set up your camera with the service.
After this, you can select your default web transfer location to services like Facebook, Twitter, Flickr, Google Drive, E-mail, or Canon's own online photo library. This is way more connectivity than you are going to find even in a lot of significantly more expensive cameras.
Price: The sub-$200 sweet spot
Like we mentioned at the start of this review, Canon really had their work cut out for them at this price point. Ultimately though, the PowerShot ELPH 190 offers a ton of bang for your buck, and represents a very competitive offering when strictly comparing price to features. If you can't spend more, you will have a tough time finding similar options that are worth your attention.